The Sounds of Experience #5 – "Urk" by The Nits (1989)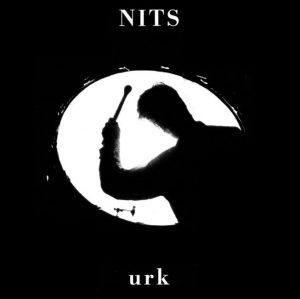 THE SOUNDS OF EXPERIENCE #5
Welcome to the Fifth issue of "The Sounds of Experience", a bi-monthly tentative to make you discover or re-discover albums from the past and present.
Discovery Channels
In the 80's there was no Internet. Internet was called Arpanet or Bitnet or Minitel in France and was only accessible to universities and research centers. My first encounter with the Internet dates back to 1989, when this cool guy from the University showed me how to send a small image using FTP protocol. Before that, we had landline telephone. And real friends we could talk to and hold hand. Now you ask me: but how did you discover music before Youtube, Soundcloud and Deezer? Well, it was a bit complicated.
Option #1 – Your parents were hippies and had a couple of dusty records of late Beatles or early Pink Floyd. This was the family musical heritage and well, at 15, you just don't want to be like your parents. (A special thought for those who had parents listening to Tino Rossi or Michel Sardou).
Option #2 – You had super cool friends with big brothers and sisters who had access to money and therefore a potential records-buying power. Your friends would lend you their siblings' stuff and you would make mixtapes at home. Lended LPs had to be back in due time for fear of getting demolished by the older brother at the school's gate.
Option #3 – Your parents replaced your "Journal de Mickey" or "Spirou Magazine" subscription by a weekly delivery of "Best", "Rock'n'Folk" or, even cooler, the imported "NME", "Smash Hits" and "Spin" magazines. Full-size posters of Duran Duran and Kajagoogoo where included, to scotch-tape on your bedroom's wall.
Option #4 – Your girlfriend has a super brand new V2000 or better, VHS video recorder and she would invite you on Saturday afternoons to lie on her bedroom bed for a special screening of "Les Enfants du Rock" with Philippe Manoeuvre and the legendary opening instrumental version of "Just Like Heaven". This was the only "rock" TV show in France. I remember doing everything I could with that Caroline girl to get an invitation to watch the 1984 Live Aid Concert she recorded on a huge V2000 recorder tape.
Yes, discovering music was a complicated process in the french 80's. Or you could just be lucky. Here's the kind of unexpected chain of events that brought me to discover a new band. I was a big fan of a french pop-rock from Bordeaux called Gamine. They had 2 hits, "Le Voyage" and "Voilà les anges". I got tickets to go watch them live at Lyon's Le Transbordeur. I arrived early and I was standing right in front of the main microphone. Best spot. Usually, rock concerts have an opening band, but this was some sort of a festival and the opening band would play a complete set, followed by another complete set by the main band. That night, the opening band was an obscure dutch quartet, called The Nits. They invaded the stage with a double-bass and a huge drum, that kind you found in circuses, accordions, pans (?) and all sort of other instruments that would prove so useful to create their arty delicate sound.
I would always remember that night with The Nits. Henk Hofstede, Rob Kloet, Joke Geraets and the more-than-amazing Robert Jan Stips performed one of the most fantastic show I had the chance to watch. 2 hours of beautiful songs, stories of humorous adventures, dreams, travels, a skater on a lake, an eating house, football memories, romance in Paris, in english, french and german. I fell in love with The Nits that night, that band from out of nowhere, discovered by chance, that would become one of my favorite act. After the show, I went to the record store and bought one of my first CD, entitled "In the Dutch Mountains". I still have it and I still play it.
The Featured Album
The Nits
"urk"
1989
Even if "The Dutch Mountains" is The Nits' best commercial success to date, this is not the album I chose to be featured on this newsletter. During that tour, they recorded a triple live album entitled "Urk". Yes, 3 records in one LP with 29 songs performed in Amsterdam, Utrecht and Moscow in 1989. The concert covers 10 years of the band's production, presenting songs from 1981 Work, 1983 Kilo and Omsk, 1984 Adieu Sweet Bahnhof, 1986 In the Dutch Mountains and Henk and 1988 Hat. Nits' music is about atmosphere. From the opening whistle of "The Train" to the speeding wheels of "Bike in Head", the whole album takes you to a wonderful imaginary trip, following boats in the "Port of Amsterdam", football-players nephews in "JOS Days" and tourists on the Black Sea in "Cabins".
Each song is a story, a story of childhood, a story of travel. A dream or an old Penguin book, a Bauhaus chair, Henry Moore: memories are pretexts for songs and The Nit's music creates the perfect musical atmosphere for the listener to embark on a unique experience. 3 tracks stand out: Mountain Jan, the adventurous story of the (only?) dutch mountain explorer (They named a mountain after him, somewhere in Antarctica…), the Panorama Man, that recalls the beautiful pictures in magazines (Who brings the cars of Michel Vaillant?) and the delicious Eating House (I'm gonna eat the car, I'm gonna eat the little kids!), about that voracious restaurant between Utrecht and Salzburg. The Nits are talented musicians, they use all sorts of instruments and objects to create the right sound and turn each note into an impression, a laugh or a cry.
I love this album so much. It's so unique in shape and content. You have to be very careful: The Nits have 26 albums, including live recordings and compilations. You might spend all your money on it once you discover that band. From the new wave sound of the 70's to their more acoustic recent albums, The Nits have kept this high level of exigence in both words and music. They're a rare band, that kind of discovery you'd like to keep for yourself. But you can't.
Video: <Watch The Nits perform "Adieu Sweet Bahnhof" in 1988>
Tracklist:
(With my personal rating out of 5 *****)
Disk 1 – A-Side
The Train – ***
Adieu Sweet Bahnhof – *****
J.O.S. Days – *****
Sketches of Spain – ****
In the Dutch Mountains – ******
Disk 1 – B-Side
The Dream – ****
The Swimmer – ***
The House – ***

Two Skaters – ****
Disk 2 – A-Side
Cabins – ******

Nescio – ******

Pelican & Pinguins – ******

Telephone Song – ****

Dapperstreet – ***
Disk 2 – B-Side
Port of Amsterdam – ****

Bike in Head – ****

Mountain Jan – *****

Walter & Connie – ***

A touch of Henry Moore – ***
Disk 3 – A-Side
The Bauhaus Chair – ***

Under a canoe – ***

Shadow of a doubt – **

Mask – *****

Home before dark – ***
Disk 3 – B-Side
The Panorama Man – *****

Slip of the tongue – ***

The Eating House – *****

Red Tape – ***

Tons of Ink – ***
Reference
On Discog:
https://www.discogs.com/Nits-Urk/master/53008
From the same artist
---