The Sounds of Experience #4 – "Virus Meadow" by And Also The Trees (1986)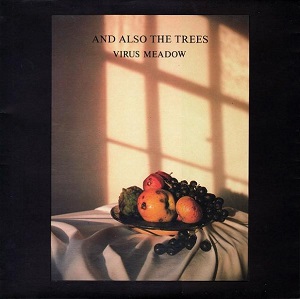 THE SOUNDS OF EXPERIENCE #4
Welcome to the Fourth issue of "The Sounds of Experience", a bi-monthly tentative to make you discover or re-discover albums from the past and present.
Jumping Someone Else's Train
When you're fifteen, life is mostly about making an impression. You're building your personality by constantly acquiring new knowledge and new experiences. You compare to others, measure impact and drop the unnecessary. Sometime, this strategy goes against your personal tastes. But you have no choice. You go with the pack and obey the rules of fashion, music, films, good logic imposed by the trend of the moment. Or you're out. I think the World works like this since the prehistoric times. Society was created 1- to prevent people from eating each other and 2 – make them follow the latest trends and buy stuff. Progress through abandon and acquisition. You already understand this quite well at 15, I think.
Of course, this rule works perfectly with music. Most people have no real taste, they just follow the path. One's music evolution road is built by organizing connexions between styles, artists, defining moments and love stories. For instance, at home, Lennon was out of question. Dad was a Beatle. A "Macca and Linda" Beatle, actually. Not a "John and Yoko" one. Never. So we had Red Rose Speedway by The Wings and Tug Of War, maybe Paul's best solo album (yes, the one with Ebony and Ivory). But no trace of Shaved Fish or Double Fantasy. It's not like Dad didn't like songs like "Woman" or "Just Like Starting Over", but the "peace and love" side of Lennon was not acceptable for a middle-class bourgeois with classic education. He may have been influenced by someone or something while building his musical journey and had started to build borders between what was acceptable and what was not.
When I started to build my own musical landscape, I had to abandon some really good stuff (It took me 20 years to rediscover bands like Manic Street Preachers or even Pink Floyd) just because they were unacceptable as a visible part of my musical personality. I would show off with super obscure band I didn't really like (sorry, Jesus and Mary Chains) and would hide my secret love for bands like The Nits or early Iron Maiden. Just the mention of these band's names would make me look like a ridiculous piece of insignificance to my group of friends. If jumping someone else's train was key, knowledge was also essential: I still remember this dude; He looked like a blond Robert Smith and was always better than me at citing songs lyrics and remembering concert dates. He came to school once with his pretentious look and said, right in my face: "Did you hear that Cure song, New Day?" – Me: A Cure song, New Day? There's no Cure song called New Day!  Actually there was. And I looked like such a fool. New Day was an obscure title featured on the B-side of a rare edition of the Close to Me remix EP, called Quadpus. I was devastated. But vengeance is a dish served cold.
After a few days, I came back to school with the coolest thing ever. In an interview, Robert Smith had said that his favorite band of the moment was And Also The Trees, a band from the Worcestershire for which he produced a demo tape in 1982. The Cure took them as support band for the 1981 Picture Tour and Laurence Tolhurst helped them with their debut album.  We were in 1986 and And Also The Trees had their new LP out but their audience was really limited to a few fans, at least in France. I found the album at La FNAC. I was attracted by this strange cover, a "Nature Morte" with rotten fruits. I took it to school and immediately became a person again. And Also The Trees was acceptable, as a band co-opted by The Cure. Their music is really different from classic cold wave, but looks and style were good. Better, they were almost unknown and not interested in success, two great reasons to be the coolest band in the World, after The Cure of course.
By bringing in a new band in the acceptation zone, I regained popularity and recognition after the tragic events of the Cure song. And Also The Trees became a new reference in my school group even if most of the members never liked their tortured music and grandiloquent words.
I have many examples of bands who actually made it to the "trend" just because they were in line with a set of characteristics. But we also missed so many great acts from that period just because they had the bad idea to be on TV or in OK! Magazine instead of Rock'n'Folk or wear pink instead of black. Like my Dad, who missed the best of Lennon just because he was more into Paul.
The Featured Album
And Also The Trees
"Virus Meadow"
1986
Virus Meadow, And Also the Trees' second album is a strange piece of goth music. The cover says it all: Rotten fruits, afternoon lights and an acoustic ambiance that would become the band's signature. The album sounds like a sad kid's trip to England's nostalgic countryside. You can hear the pouring rain in the background, you can smell the wet straw from a barn from the rustic violins and cellos. When Cure's Seventeen Seconds is foggy and desperate, Virus Meadow is delicate and victorian. My favorite track is the classic Gone… with the swallows with the symphonic intro, Simon Jones's spoken words and the beautiful drumming. Justin Jone's guitar is drawing a delicious melody, jumping from minor chords to glorious joyfulness. Another classic is Slow Pulse Boy, with its "Poètes Maudits" inspiration and the haunted voice repeating "From Horizon to horizon"…. and suddenly a pounding beat and a beautiful orchestration, like a cup of hot tea after a freezing afternoon in the park. Don't forget to also pay attention to the magical story of Jack, the opening title of the B-Side, a wooden percussions suite of strange encounters.
You're going to love me for introducing you to this band (if you didn't already know them). They're still active and still rare and invisible, even after 13 albums. Virus Meadow is definitely their best album… I would suggest you listen to it in the train, after the rain, when you travel from Southampton to London. Magical.
Listen to Virus Meadow on YouTube >
Tracklist:
(With my personal rating out of 5 *****)
A-Side
– Slow Pulse Boy – *****
– Maps in her Wrists and Arms – ***
– The Dwelling Place – ***
– Vincent Crane – ****
B-Side
– Jack – *****
– The Headless Clay Woman – ****
– Gone… Like the swallows – *****
– Virus Meadow – ****
Reference
A great article on And Also The Trees on METAMUTE:
http://www.metamute.org/editorial/occultural-studies-column/melody-and-melancholy
On Discog:
https://www.discogs.com/And-Also-The-Trees-Virus-Meadow/release/403024
From the same artist
---