The Sounds of Experience #6 – "No Sense of Sin" by The Lotus Eaters (1984)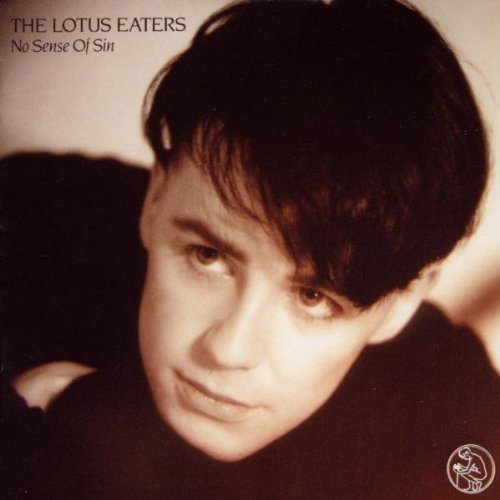 THE SOUNDS OF EXPERIENCE #6
Welcome to the Sixth issue of "The Sounds of Experience", a bi-monthly tentative to make you discover or re-discover albums from the past and present.
Hello
The 80's were a strange decade, disappointing and darkly romantic (as in "Celebration of euphoria and sublimity had been dogged by an equally intense fascination with melancholia, insanity, crime, the grotesque, and the irrational"). When the 70's were about experimentation and excess, the 80's were tough times, with nuclear threats and Maggie Thatcher. At the beginning of the 80's, social revolutions and combat rock evolved into the post-punk movement that brought us Joy Division, The Cure and their dark, depressing spleen. Even the Synth-pop scene, at its best with huge acts like Depeche Mode, Alphaville, A-ha, Eurythmics and Bronski Beat, was tainted with sadness, disillusionment and worry.
In 1984, I was entering my teenage years and it became obvious to me that life was a sad and depressing experience, and no-one in the World would be stupid enough to even care for my very own insignificance. No acting involved here. With Baudelaire and Verlaine entering my school curriculum at the time, plus the german teacher requesting my participation as the young W. in DDR's Ulrich Plenzdorf Neue Leiden des jungen W., the reasons for my depressive look and fuck the World attitude were pretty obvious.
Coming home from athletics training, early December, at 6pm, after 2 hours of sufferings (Leiden) on the cold grey sand of the municipal stadium under a cold drizzle of tasteless water sorbet, eating mom's alphabet soup and going to bed to admire the little red boats printed on my wall's tapestry could push any teenager to suicide. Especially if the soundtrack of your life at the time is The Cure's Pornography.
A normal day used to start with cold dark mornings, red-brown shirts and old Coq Sportif snickers, bus N5 to College Jean-Jacques Rousseau, in-class humiliation, out-of-class humiliation, back to in-class humiliation, bus N5 back home, and obviously ended with alphabet soup and red boats on the wall. To add to my normal feeling of persecution, my romantic sentimental life was in limbo, lost between a furtive smile (was it a smile, really?) from that super cute preppy girl that look like Sophie Marceau in La Boum and desperate declarations of love like badly written letters on Clairefontaine paper sent to me by insignificant girls lurking at the back of the class. Both were depressing: the beautiful girl was not for me and the not-so-cute ones, well, were not so cute.
So I became dark romantic. Like the young W. from Karl Marx Stadt.
A dark romantic is quite hard to describe, for everything is in the attitude. Almost-happy new romantics would look like Boy George or Howard Jones, with touches of color and little jumps, here and there. In the spring, they would turn into butterflies and wear a colored swimsuit in the summer. Normal new romantics might even smile from time to time (but not in public) but these uneasy grins would immediately be replaced by a 90 degrees-angle look-up-to-the-grey-sky, in search for words to write a new poem about grey skies, swallows and birch trees.
When I think about it, my type of dark romanticism was quite elaborated. It included quotes from Witold Gombrowicz, images from Kieslowski and music from The Cocteau Twins. Dress code was black and white. Second-hand black suit jacket, baggy black pants, white shirt, with a beige pearl necklace. I never used eyeliner, but red lipstick was mandatory. When Robert Smith introduced the white high-top sneakers in 1985 and cut his hair short in 1986, life became easier: no more Doc Martins and crimped hair to go on Bus N5!
The real goal in life for a dark romantic is to fall in platonic love with a beautiful and ethereal girl, but intellectually inaccessible. That girl would know so much about Kierkegaard and Kurosawa that it would take 3000 miserable existences like mine to actually be able to reach that level of cultural excellence. And even if you learn the entire works of Schiller and Goethe by heart, it wouldn't even be enough to get the slightest piece of platonic attention (oh, by the way, some non-romantic guys, at the time, were interested in "other" things with girls than discussing the latest book by Ismaël Kadaré and this was so disturbing…).
I met my first dark romantic girlfriend in 1984. She was just as dark romantic as me and we could stay hours holding hands and discussing the positive role played by Robert Smith in Siouxsie & The Banshees, listening to Roxy Music's Avalon or watching a Kusturica's movie. Her face was white, her hair was black and she was so depressed by her parent's divorce (at the time, kids with divorced parents were the coolest things alive) that she was melancholic most of the time. We stayed together for almost a year and when we started to enjoy it and have happy moments, we decided to break up to avoid social humiliation. I went back to athletics, alphabet soup and the little red boats.
But I kept something from that doomed relationship: My dark romantic girlfriend loved a song from a Liverpool duo called The Lotus Eaters. Listening to their hit single "The First Picture Of You" will always remind me of these glorious times of spleen and tears about our miserable existence, waiting for the nuclear holocaust and bus N5.
The Featured Album
The Lotus Eaters
No Sense Of Sin
1984
Peter Coyle and Jeremy Kelly formed The Lotus Eaters in 1982 and started recording at a John Peel Session the same year. Their first album, No Sense of Sin, was recorded in 1984 and was for almost 20 years the only album by the duo. After a split in 1985, the band reunited in 2002 to produce 2 confidential albums. Until now, No Sense of Sin is one of my favorite LP and the delicate production of the 12 songs it contains still amazed me. The twinkling guitars, the melancholic piano, the delicate lyrics, everything is romantic, including the duotone lovely look of Peter Coyle on the album cover.
The best song of the album is "The First Picture of You", the band's only hit single, but other songs, like "Out on your own" or "German Girl" are some of the most underrated pop songs of the romantic 80's. No Sense of Sin is bitter sweet in its subtile approach of love and relationships, like in "It Hurts" or "Set me apart". Michael Sutton wrote the following about the Album: "One of the most underrated albums of the '80s, it is essentially the neoacoustic blueprint employed by Travis, Keane and Badly Drawn Boy two decades later".
On a side note, The Lotus Eaters on Tour included bass player Michael Dempsey, one of the founding members of The Cure. Also, No Sense of Sin was reedited in 1998 in an extended version of 20 songs, including a 12″ version of "The First Picture of You".
Tracklist:
(With my personal rating out of 5 *****)
A-Side
German Girl – *****
Love Still Flows – ***
Can you Keep a Secret? – ****
Out on your own – ****
Put Your Touch on Love – ***
Too young – ****
B-Side
Set Me Apart – *****
You fill me with Needs – ***
The First Picture Of You – *****
Alone of All Her Sex – ****
When You Look At Boys – ***
Start of the Search – ***
---