The Sounds of Experience #3 – "Lumières et Trahisons" by Marc Seberg (1987)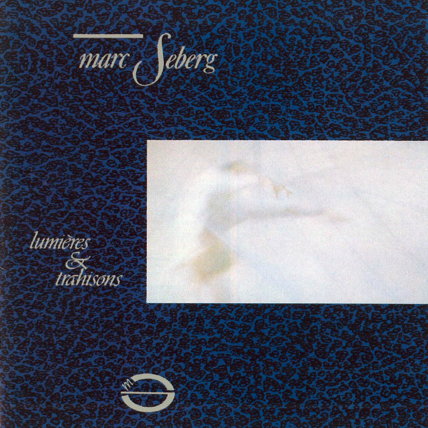 THE SOUNDS OF EXPERIENCE #3
Welcome to the third issue of "The Sounds of Experience", a bi-monthly tentative to make you discover or re-discover albums from the past and present.
Lyon, 1985
They were so many advantages to be 15 in Lyon in the middle-80's. Lyon is such a great city, with great history, culture, food and, of course, great people. 3h from the sea, 2h from the best slopes of Europe and 2h from the center of Paris with the TGV. Perfect place to be born indeed. Well, almost perfect. The birthplace of cinema, in the 80's, was the rock music desert of France and if you consider that France is the largest rock music desert in the World after North Korea, well, you have an idea.
Oh, they were a couple of cool new wave bands like Voyage de Noz, Aurelia Kreit or L'Enfance Eternelle, that would gather 500 people at the Bourse du Travail for a once-in-a-year gig. But Lyon was definitely not the vibrant rock scene it used to be in the 70's. And even if some artists actually made it to the larger national stages, nobody knew they were from Lyon (That's the case of Starshooter, Carte de séjour or l'Affaire Louis Trio for instance).
Anyway, the Entire French rock scene in the early 80's was limited to average rock bands like Trust, Telephone or Indochine and the rest of the World would not even consider France as an interesting source for rock music, considering what was coming out of England or even Germany at the time (Do I really need to make a list here?). Even today, most of famous french bands like Air, Daft Punk, M83 or Justice are hardly identified as "french" and if you ask around, who (not reading this) can name a french rock band, especially one from the 80's?
Rennes is the place
If Lyon was not the kind of place to search for rock sounds in the 80's, another regional capital, Rennes, gave birth to many interesting bands and artists. The most famous of them are the pop icons Etienne Daho, Arnold Turboust or the sexy duo Niagara, but Rennes provided stronger rock acts like Les Nus, Ubik, Dominic Sonic and the geniuses ofMarquis de Sade. This strange and enigmatic cold wave band, created by Christian Dargelos, Philippe Pascal and Franck Darcel, issued 2 albums in 1979 and 1981 before splitting in 2 different bands, Octobre and Marc Seberg. 
I discovered Marc Seberg in 1986, right after the release of their second album, "Le Chant des Terres". I was pretty much in everything at the time that could be tagged "Cold New Wave", like The Cure, Siouxsie, Cocteau Twins, And Also The Trees or The Sisters of Mercy. I can't really remember who gave me that tape. But Marc Seberg's third album, Lumières et Trahisons, was like a miracle to me: A band that sounded like The Cure, but with something warmer, lighter, something like U2 or Simple Minds, but with darker lyrics… in French.
My two cents
Before I go into the album's presentation, I would like to give you my 2 cents about great rock songs with French lyrics: they usually suck. Try to translate any Beatles song in French and it's just a no way ("Je suis le morse"…). Only a band from Bordeaux (the other bourgeoisie's regional city of France), Noir Désir (before the dramatic events involving their singer Bertrand Cantat) managed to bring vibrant French words on top of powerful rock, without sounding too ridiculous. I remember 1993, working at the UNHCR in Geneva, and bringing with me a British colleague, a hard core fan of Fugazi, to the Noir Désir concert at the Nyon Paleo festival. The show was a classic with a 10 minutes version of The Beatles' Helter Skelter during which Cantat just lost control and turned into… something alien (You can listen to it on Dailymotion). My friend absolutely fell under the charm of the band and their violent energy, despite the French language lyrics. In a way, it's all about the performance, words are just sounds. Whatever the language, if you can sing and bring efficient sonority to words, it'll work. Think about German bands, like Die Toten Hosen or Kent's swedish language albums.
Now the featured album
MARC SEBERG
"LUMIERES ET TRAHISONS"
1987
[Marc Seberg's 1987 Lumières et Trahisons]
Marc Seberg's third album was produced by John Leckie, the man behind Simple Minds and Muse early albums. Released in 1987 and following the acclaimed Chant des Terres, the album is the band's only commercial success. Lumières et Trahisons is entirely sung in French. And not your usual french. Philippe Pascal is the only singer I know that can use the words "Prisme, éther, siamois, insidieuse, indulgence" in a rock song. Pascal is a "Poète Maudit", in the likes of Baudelaire and Verlaine, sometimes lyrical and atmospheric, often tortured and depressed, always beautiful and inspired. The only "problem" with Philippe Pascal, well, if you're not used to it, is his mannered voice. This deep, dark, theatrical, sometimes slightly out of tune voice is actually the "signature" of the band. You have to get used to it. Some critics never did and Marc Seberg would always suffer, in the rock press, from mixed reviews. Still, no other French band has produced such a "timely" music. Anzia's guitar style could easily compare to Simple Mind's Charles Burchill and provide the same brilliance through classic new wave harmonies.
All the songs on this LP have their own taste, even if the whole album is quite coherent. From the funky intro ofFascination to the symphonic sounds of L'Amour aux Trousses, from the upbeat Insectes to the darker and melancholicLa Nef des Fous, Lumières et Trahisons is a journey across the best new wave sounds of the decade. Omnipresent keyboards pads, glittering guitars and Philippe's lascive voice will take you back to these teenage years, when music was arty, complex, but so real and inspiring.
Lumières et Trahisons was followed by the less interesting Le bout des nerfs. The band disappeared just after and would never be heard of again. A legend was born.
Tracklist:
(With my personal rating out of 5 *****)
A-Side
Dans ses rêves – ****
Décembre – ***
Emmène-moi – ***
L'Amour aux trousses – *****
Jeux de lumières – *****
B-Side
Fascination – ****
La Nef des Fous – ****
Insectes – ****
Sans paroles – ***
Miss Leading – ***
PS (Instrumental) – **
Reference
From the same artist
Listen to 1985's Le Chant des Terres.
---